Now that we've had a little over a week to fully explore research in Pokémon GO, I am pretty happy with the update.  The only thing that has me feeling a little let down is the fact that now that I've completed the quest for Mew and there's no event going on it doesn't feel like there's anything to do in the game at present.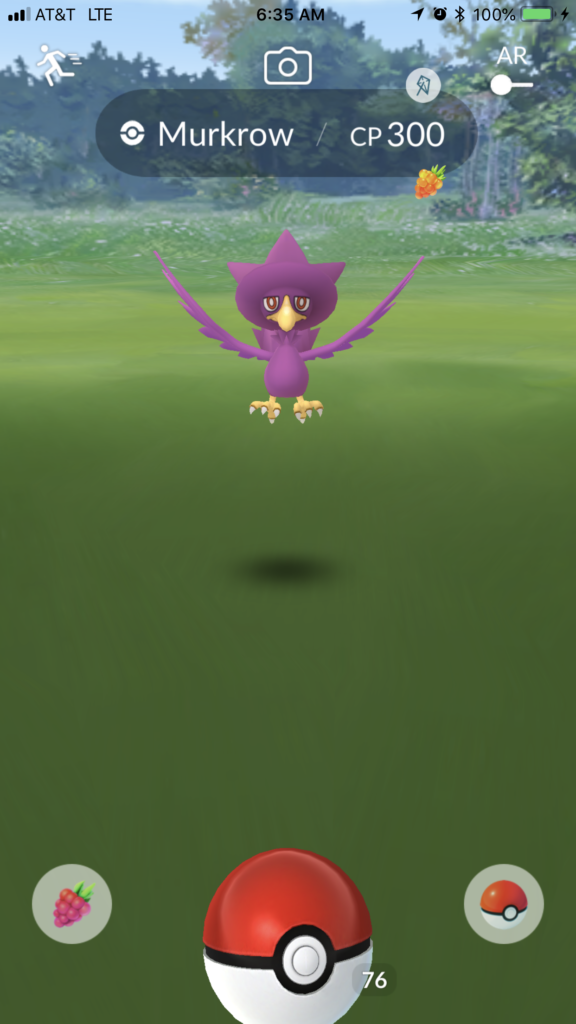 I stumbled upon a shiny Murkrow, the April Fool's joke that they added to the came last week.  I hadn't tapped on a Murkrow since I was trying to get my gold Delinquent medal.  I'm happy to not have to tap on any Murkrow again moving forward barring any necessary field research assignments.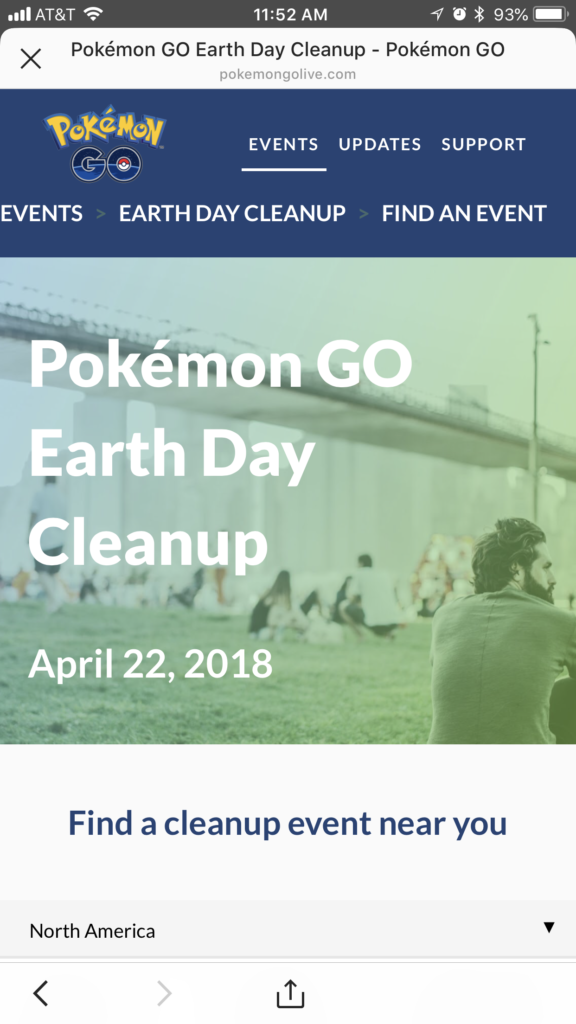 Niantic also announced a cool Earth Day Cleanup event which I thought sounded like it could be fun.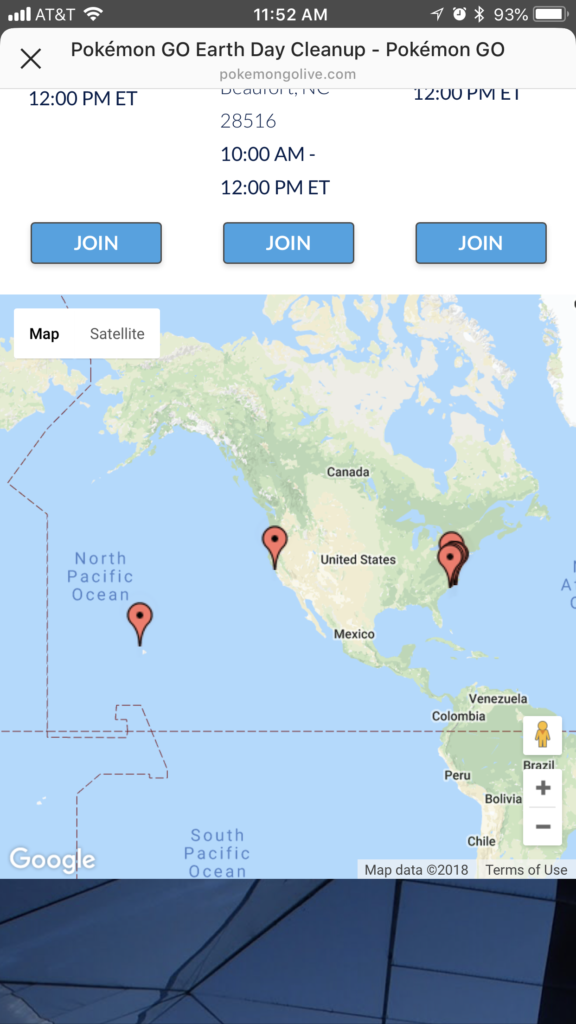 Upon perusing the North American map of event locations my excitement faded pretty quickly.  I'm all for the premise but I don't know that I can travel 1200 miles to clean up a beach.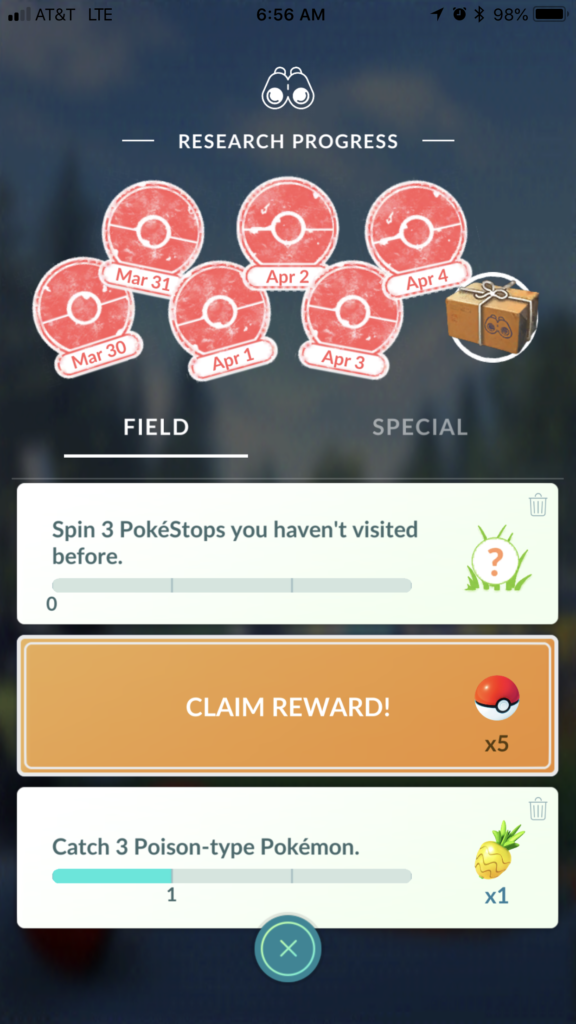 I was able to complete my week of field research which unlocked the first field research reward.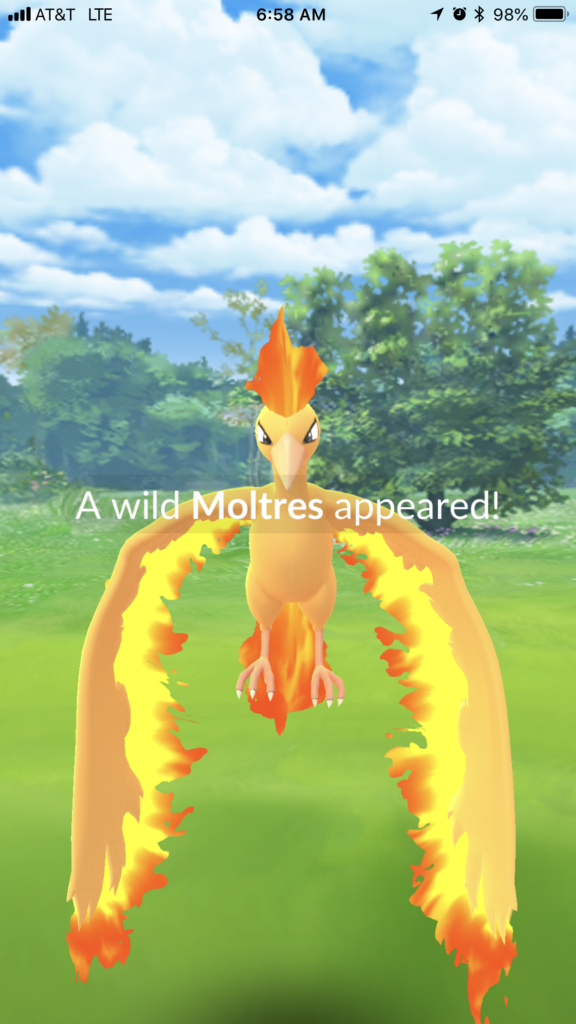 It's a really great additional that they're adding legendary Pokémon through the research rewards but the surprise was spoiled by hundreds of people on Twitter who live in time zones ahead of mine.  Still, it's a great addition to the game.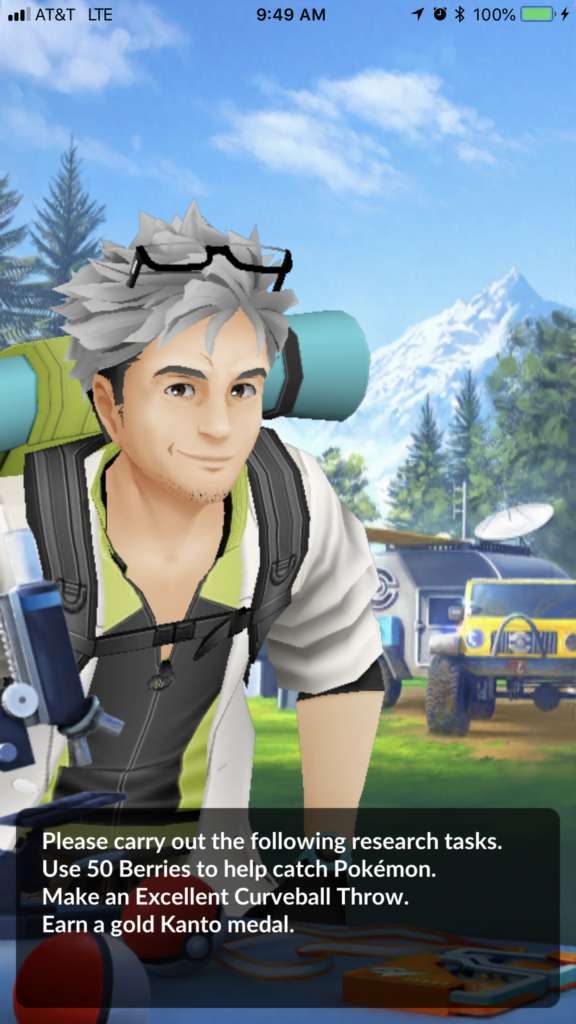 I completed the more difficult task for the Mew quest and that lead me to the final stage which, quite honestly, was supremely easy.  Catching a Ditto was the only difficult part of the entire quest which I was able to do at the very leisurely pace of about a week.  Honestly, for the final stage catching Pokémon with berries was very easy and did it mostly from my house by just opening the app once or twice and hour.  It was a little tedious but not really that challenging.  I made the single excellent throw on my first throw after the research was assigned and I got the gold Kanto medal about eighteen months ago.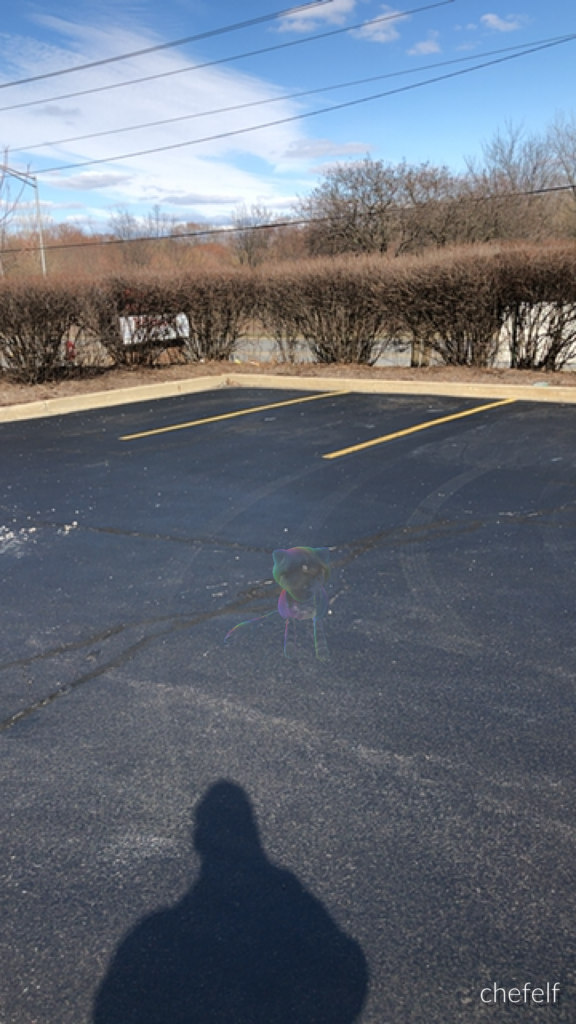 When the quest was complete it was extremely confusing as to what was going on as I didn't realize I'd be forced to catch Mew in AR mode with no choice of balls or berries.  After a few tosses I picked him up pretty easily.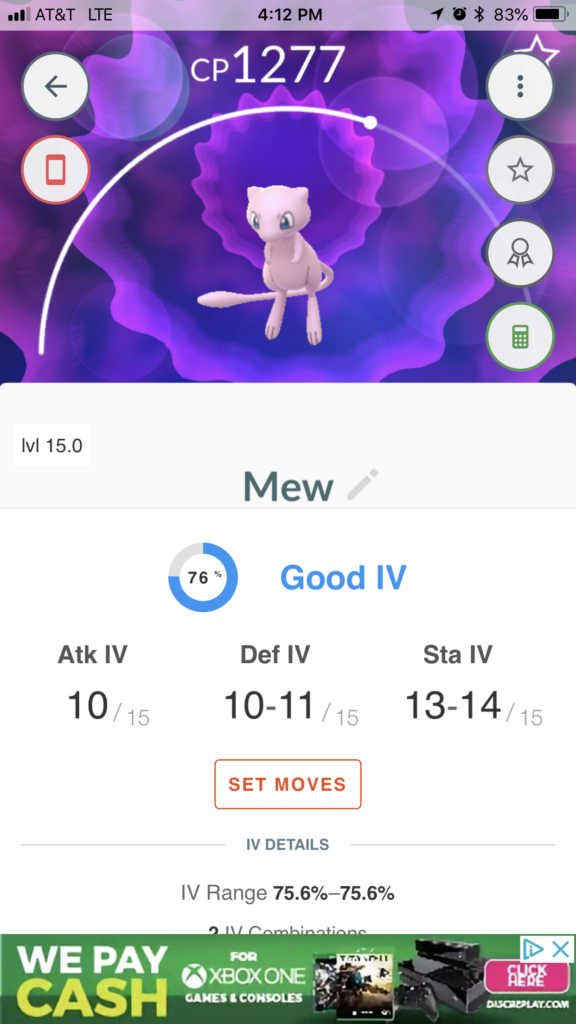 The whole thing was a little anti-climactic as my Mew ended up having almost the worst IVs possible from a Mew catch.  I think the lowest possible IVs are around 73%.  I would have been pretty happy with at least 80% but since I'm probably not going to end up actually doing anything with this other than holding it as a trophy I guess it doesn't really matter.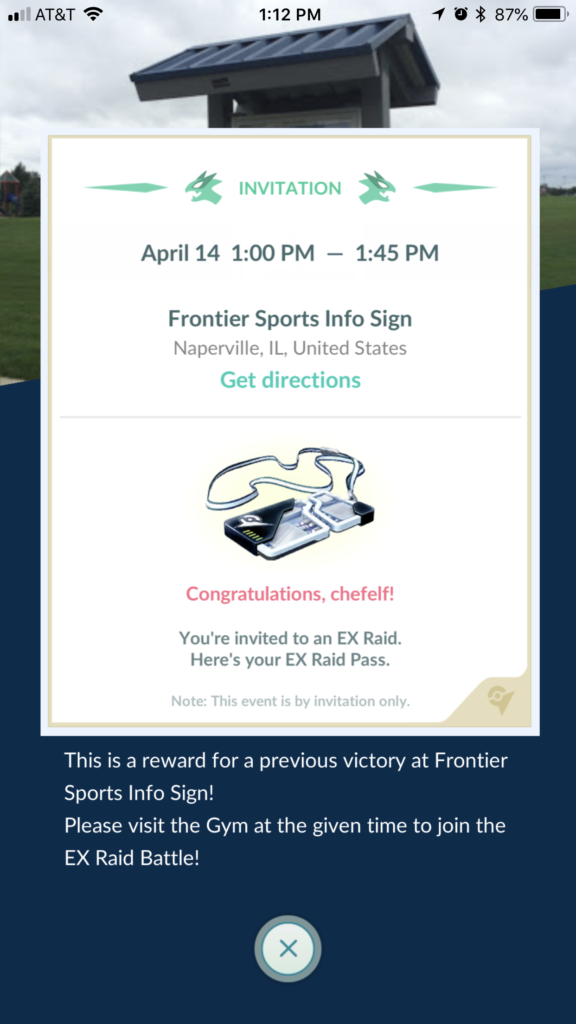 The more exciting news of the day was later that earlier that afternoon I finally got my first ever EX Raid pass.  What's even more exciting is that it is at a time I was not scheduled to work or previously engaged.  Finally, I will get a shot at attempting to catch Mewtwo, something that most of the people I raid with have already done multiple times.
Overall the Mew Quest was pretty fun but my main gripe would be that this feature should have been available to the game from launch.  I remember how long it took me to evolve my first Gyarados which I powered up to be my first Pokémon over 2000 CP.  I remember how long it seemed to take to hit level 25 and how long it took me to register 100 Kanto region Pokémon in my Pokédex.  All of these things were instantly checked off my lists.  How much more exciting would it have been to have been working towards the greater goal of catching Mew while I was doing all that.  Evolving my fifth Gyarados, which I didn't need, sitting on 2300 Magikarp candies wasn't quite as exciting.  Actually I was a little annoyed because I didn't need it and was hoarding the candies.  Catching my 98th Ditto wasn't quite as exciting as it was catching my first.  Generally I'm annoyed when I ever see Ditto these days.
It was nice to have things to shoot for though.  I could have easily knocked this quest out in a day or two (you know, if I didn't have a family or a job) but I took my time with it and it made the game more interesting.  I'm hoping future quests will have some slightly more challenging elements to them.
Even with how quick this quest could be knocked out I saw plenty of players on Twitter tweeting coordinates to Gastly nests so that people could spoof to the location and catch ten ghost Pokémon within minutes.  I can't even imagine how that could fun for anyone, knocking this quest out in hours rather than enjoying it.  I was disappointed that I was able to catch my ghost Pokémon in one morning of casual play.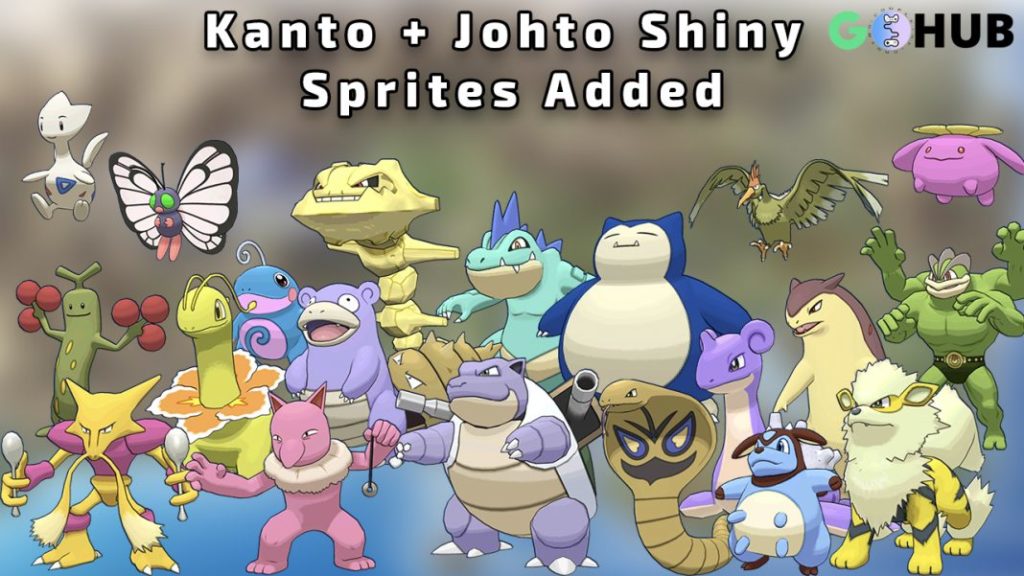 In the never-ending onslaught of recent developments in the game has been that there's rumor of an event starting on April 10, this coming Tuesday.  The only information is that the event will focus on the Pokémon of the Kanto region.  However, recently, shiny sprites for over 100 Pokémon have been detected which means that the quest for shinies may be about to get crazy this week.
This event is likely to be announced tomorrow so we'll see shortly what it's all about.  One thing I'm eager for is another double candy event as I have over 200 Bulbasur and Dratini to transfer.
Even with nothing else my week will end with a Mewtwo raid and the Community Day Event.  It's going to be very exciting to see what other surprise gets thrown into the mix.