As Finn and Rose sit in their prison cell they lament about how they weren't able to reach the master codebreaker.  Then, in the shadows, they hear someone say, "I can do it."  The mystery voice is revealed to belong to none other than Benicio del Toro doing his best Benicio del Toro impression.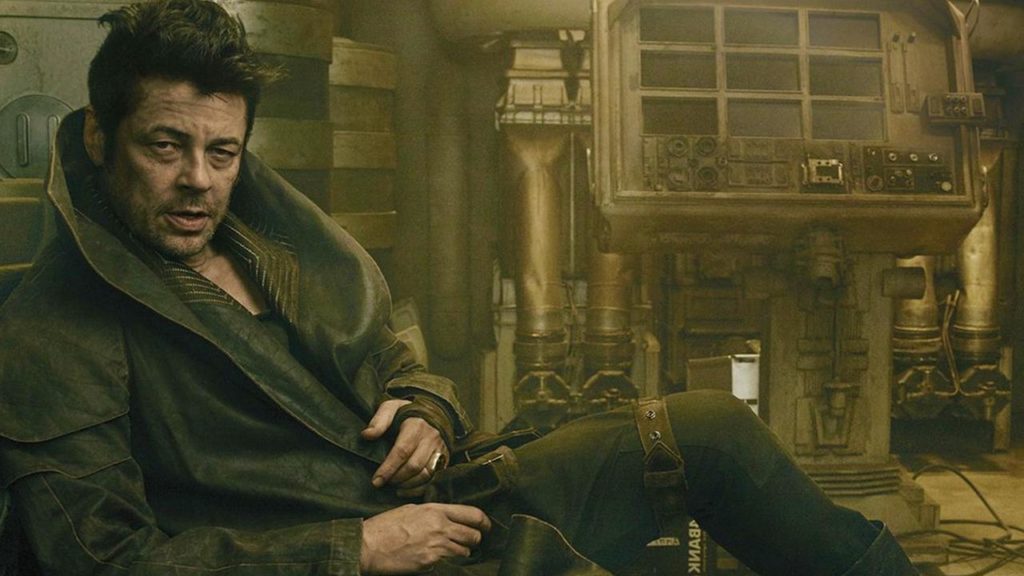 They brush him off as useless until he manages to open the cell and just walk out, a feat he was presumably saving for an audience.  He then helps them escape through a floor panel which they leave wide open for easy tracking by the police.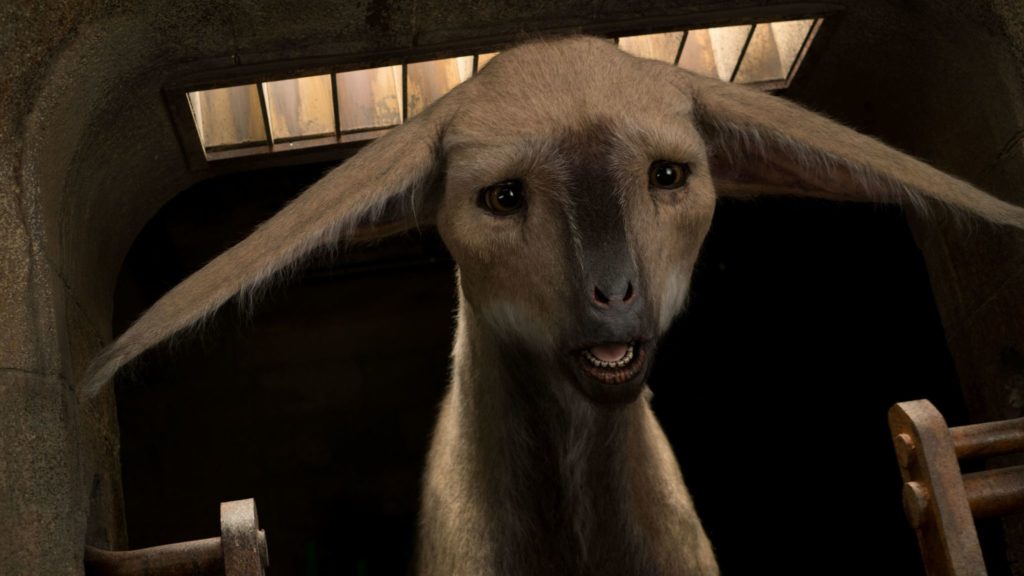 When they emerge from the underground they are in the stables where the fathiers are housed.  They are nearly reported by one of the slave children until they show him their ring with the symbol of the rebel alliance.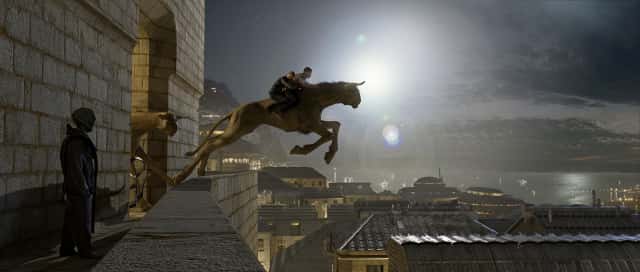 The children then help them set all the fathiers free and then the dumbest scene in the movie unfolds.  All the fathiers just rampage through Canto Bight, destroying everything in their path.  They are not only fast creatures but seem to be impervious any sort of injury as they barrel through breaking glass, stone, and wood.  All the while Finn and Rose are riding them, somehow not being thrown from the beast.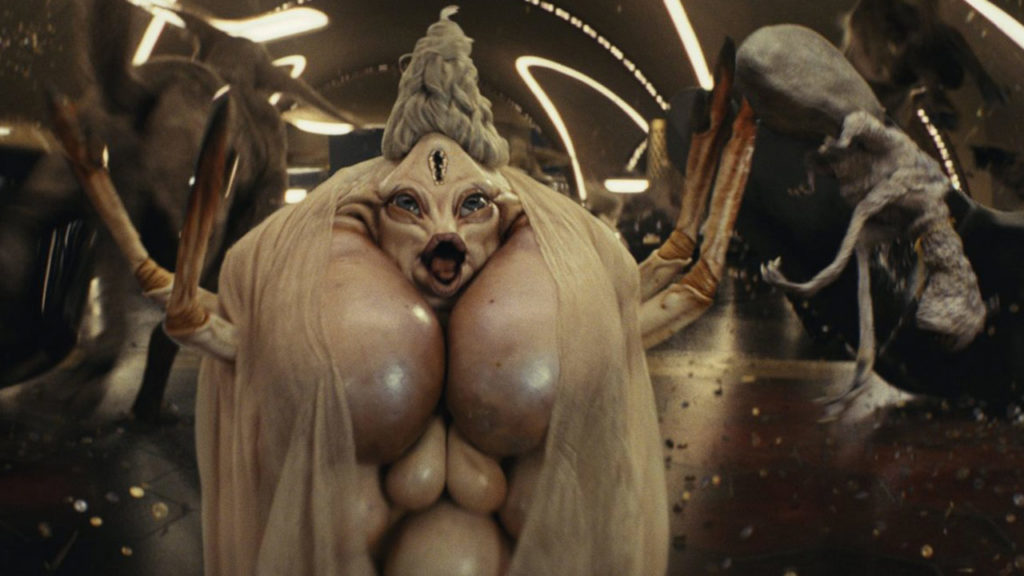 The dumbest scene in the movie leads, of course, to the dumbest single moment when they dash past a weird, multi-dozen-breasted woman who lets off an operatic tremolo-heavy shriek.
As I've said, this was the dumbest scene in the movie.  This got me to thinking, what are all the dumbest scenes in all of the Star Wars movies?  After a few minutes of consideration here's what I've come up with: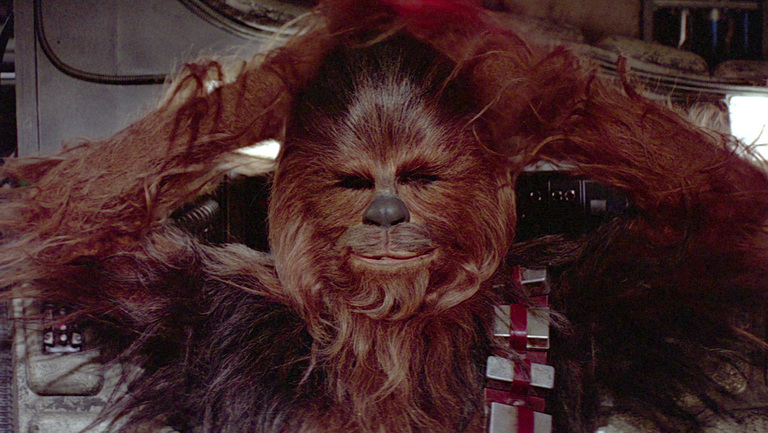 Episode IV: A New Hope – The scene where Han tells them to let Chewbacca win the chess game.
There's nothing wrong with the sentiment, it lets the viewer know that Wookiees are really strong as if that wasn't evident already.  The part that always bothered me is when Chewbacca put his arms behind his head as if he were too cool for school.  It's the equivalent of looking at he camera.  Even as a child this scene bothered me.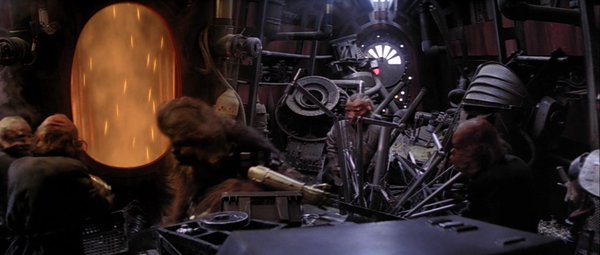 Episode V: The Empire Strikes Back – The scene where the Ugnaughts play keep away from Chewie with C-3PO's head.
It's hard to pick the dumbest scene in the best movie ever made but here you have it.  Seeing Chewbacca fumble around trying to get Threepio's head back is more sad than comical.  Having him threaten to rip their arms off or just roar at them to scare them away would probably have been a bit cooler.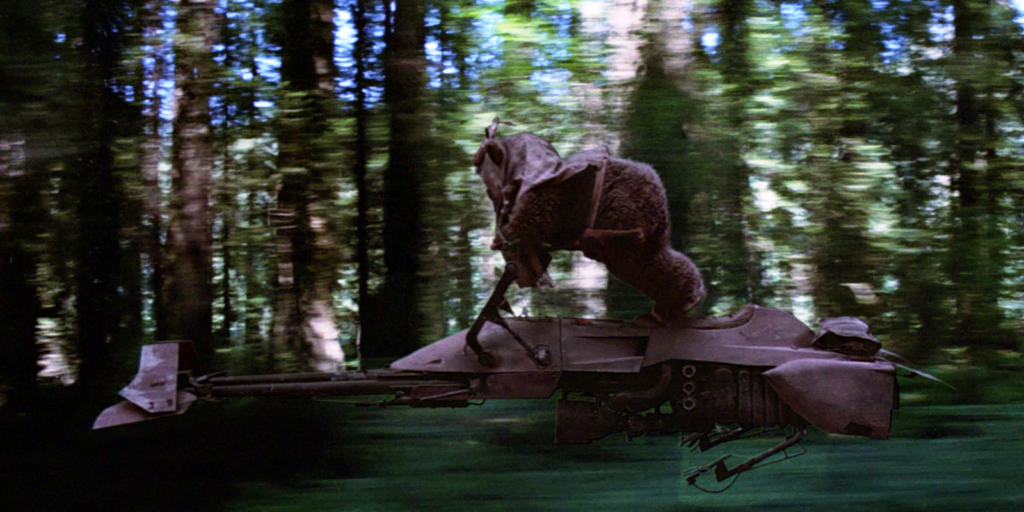 Episode VI: Return of the Jedi – The scene where the Ewok steals the speeder bike.
This moves the plot along but the seeing the Ewok for as long as we do and the chase that happens could have been left out.
Runner up: Chewbacca's Tarzan yell.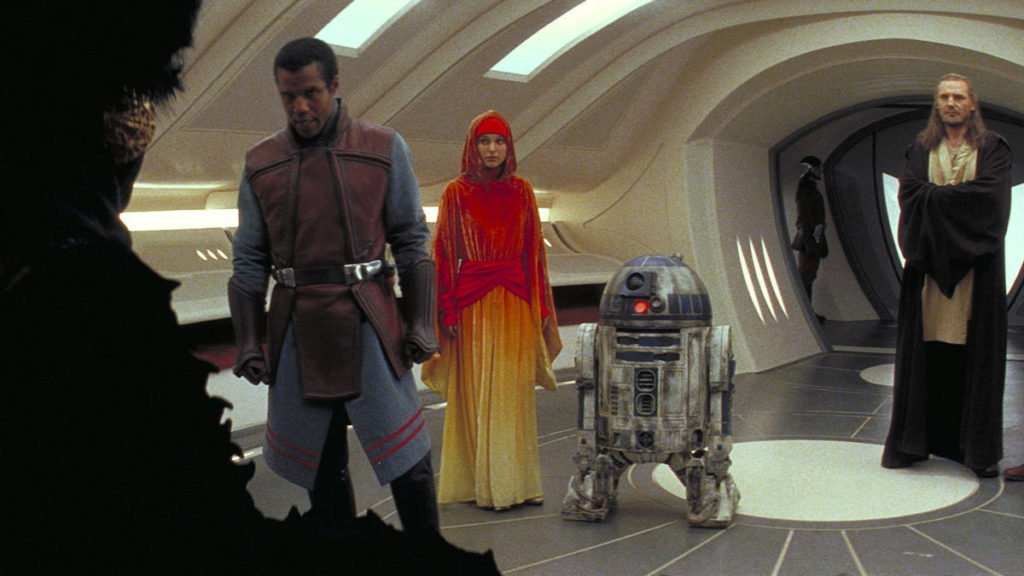 Episode I: The Phantom Menace – The scene where R2-D2 saves the day and gets a medal.
This was a tough one but I still feel a tinge of embarrassment run up my spine every time I see R2-D2's name read off of his frame and he is given an award even though he's just a robot.
Runner up: Most other scenes in the movie.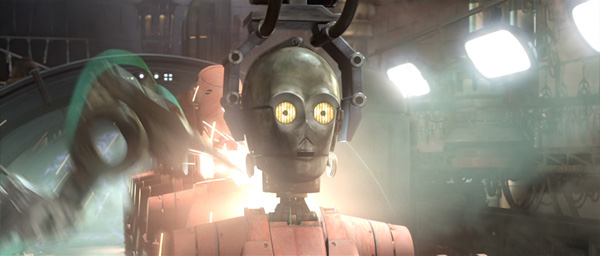 Episode II: Attack of the Clones – The scene where they have to jump through the droid assembly factory.
C-3PO's head and body getting swapped with battle droid parts are topped only by revealing that R2-D2 can suddenly fly!
Runner up: The dumb diner scene and the shape shifter.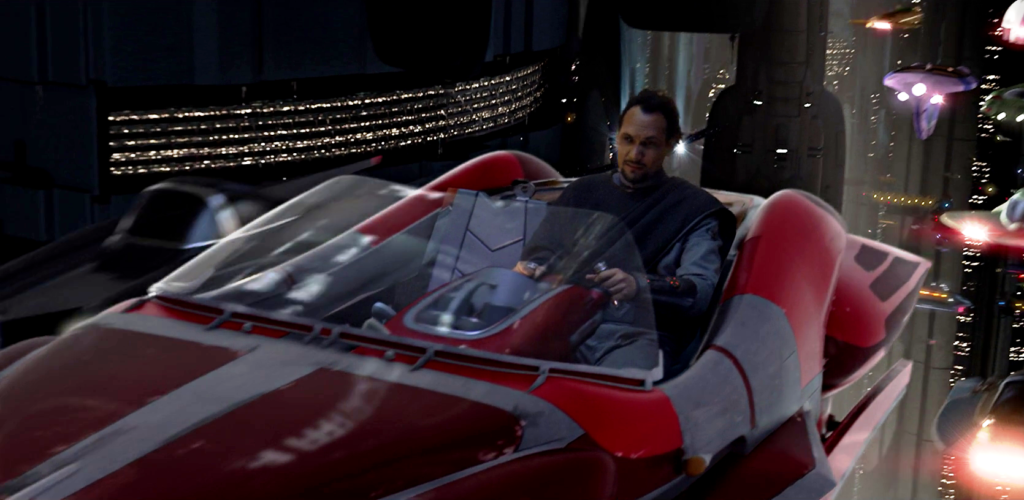 Episode III: Revenge of the Sith – The scene where Bail Organa rides a hot rod.
Bail Organa, racing through Coruscant during this pivotal moment in galactic history should be a scene high on emotion.  Unfortunately it's impossible to feel anything other than amusement as he races through the city in his 1950s style car with fins.  Even the most serious look on Jimmy Smitts's face can't distract from the unintentional hilarity of the moment.
Runner up: The scene where Obi-Wan rides that big, dumb lizard creature and any romantic dialogue between Anakin and Padme.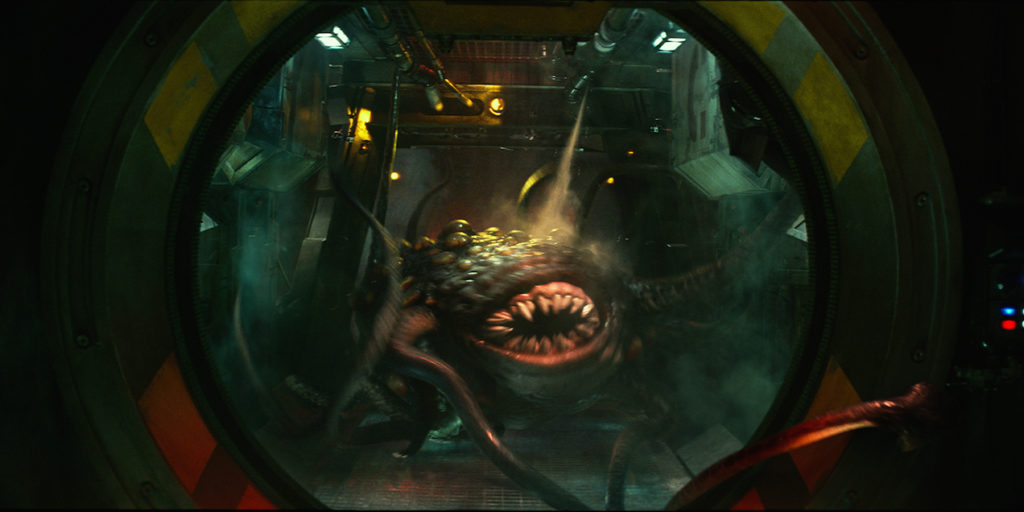 Episode VII: The Force Awakens – The Rathtar scene.
This whole scene played out like an episode of Red Dwarf.  don't get me wrong, I love Red Dwarf.  However, like I want my science left of out Star Wars and left to Star Trek, I want my silly alien creature encounters aboard a ship left to Red Dwarf.  While watching this scene I felt like I'd already seen it 100 times and was eager for it to end.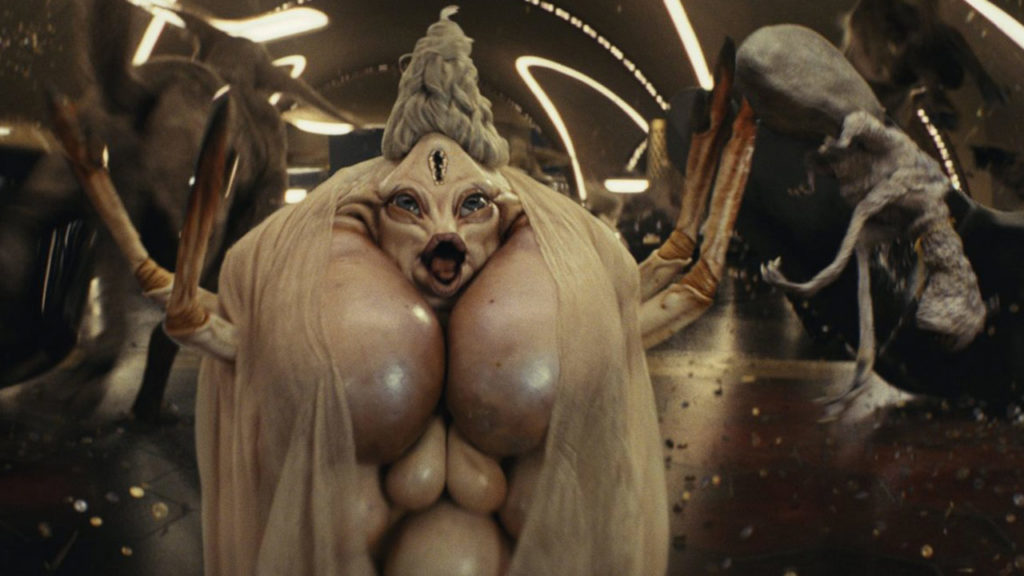 Episode VIII: The Last Jedi – See above.
After all of this Finn and Rose are nearly a their ship when they see it blown up.  They quickly circle back until they nearly run off of a cliff.  Rose sets the fathier free and says, "Now it's worth it."
Just as they're about to be captured BB-8 and Benicio del Toro fly by and rescue them.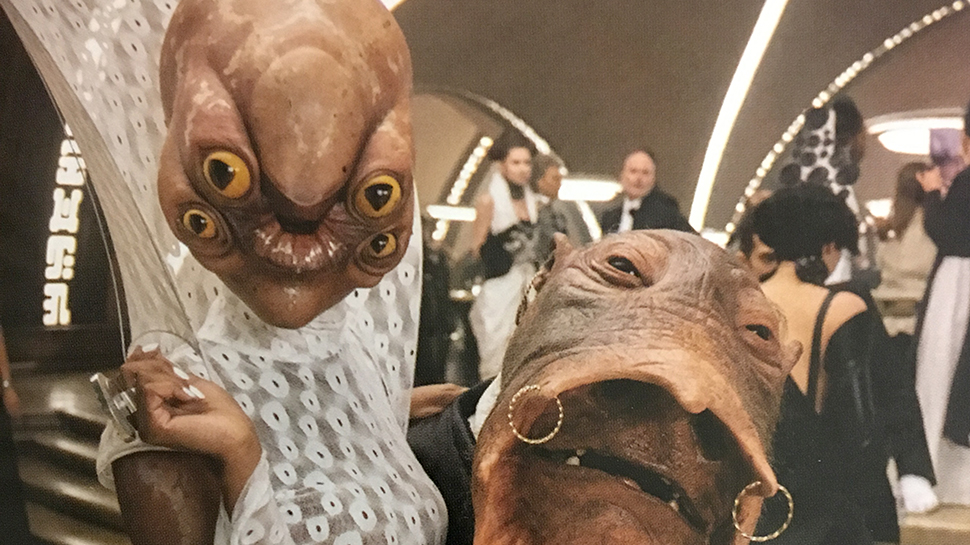 If this class of people had ever been mentioned in any Star Wars movie prior to this one maybe this scene would make people say, "Hell, yeah!"  However, this entire thing is set up just minutes earlier to be knocked down.  Here's a bunch of terrible people you can hate — and they've been punished!  Yay!  Finn doesn't even have any idea what this place is and has to be told by Rose.  They trash the place just to trash it.  It's sort of like the scenes in National Lampoon's Christmas Vacation where they injure and destroy the personal property of the yuppies next door.  We're supposed to be happy because it's the 1980s and we hate yuppies but what did they actually do besides have overly modern (for the 1980s) decor in their house?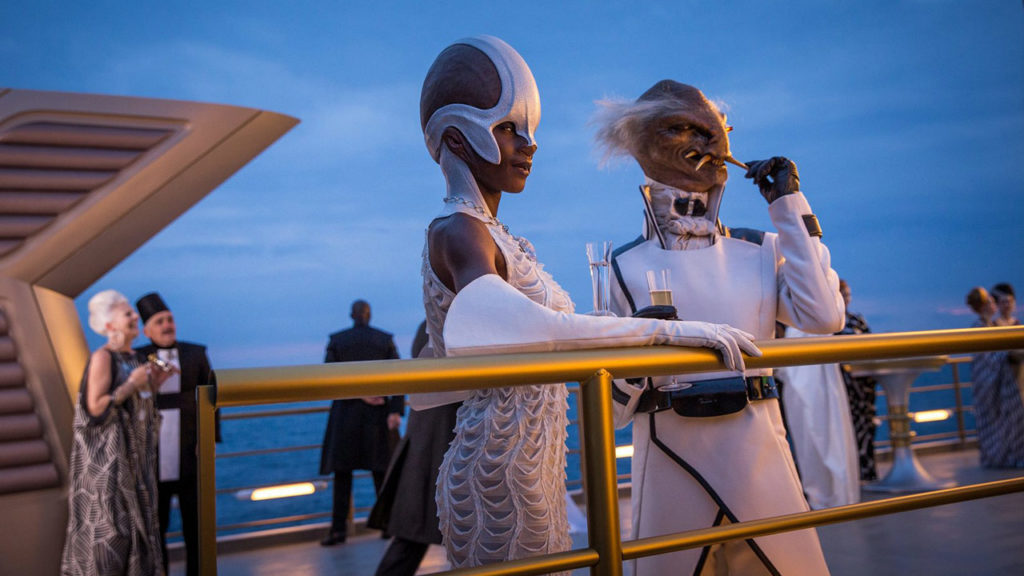 I feel the same way about Canto Bight.  I don't know anything about these people and I don't care about them either way.  All I know is that when Benicio del Toro and BB-8 showed up I felt like cheering.  Not because they were making their escape but because I was glad to never have to see this dumb place again.
Next up . . . we learn what really happened between Luke and Kylo Ren and the return of . . . YODA?!?!