The latest Pokémon GO special event has just concluded.  I had carefully calculated my XP gains so that I would reach level 40 late this morning.  Due to a miscalculation in my grinding schedule I hit level 40 late last night instead, unexpectedly after a binge evolution session gained me slightly more XP than I had planned on.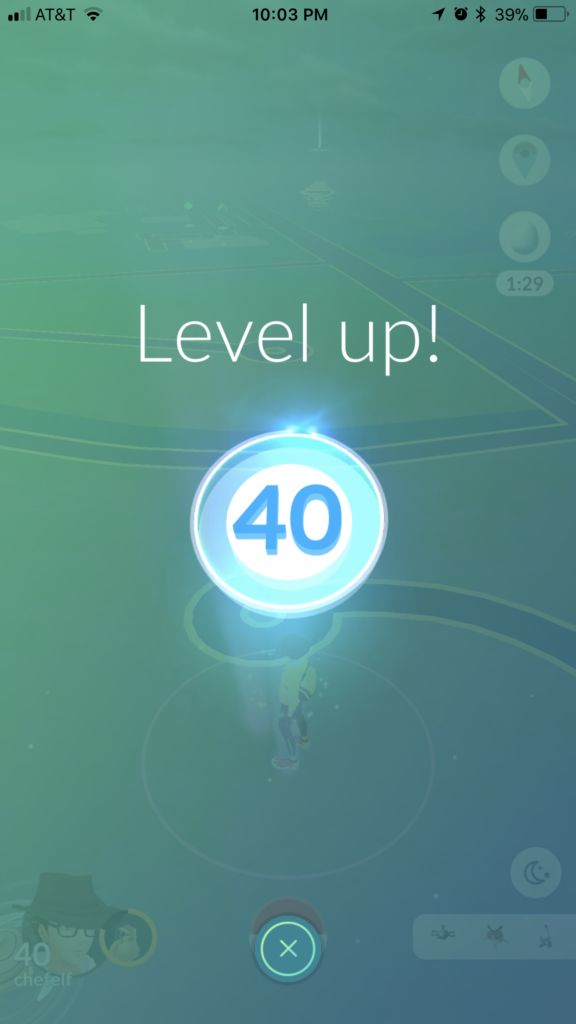 Events continue to be the only time I seriously play the game.  The rest of the time I am merely catching a few Pokémon and spinning a few stops to keep my streaks alive.  If Niantic were a little quicker in implementing quests I may be more apt to fire up the app during regular play.
When Pokémon GO first came out there was a sight with a calculator to estimate when you would reach level 40.  My estimation was mid 2019.  My grinding sessions over the past nearly two years must have really paid off.
There are people who hit level 40 mere months after the game was released.  It has been a long road but it's pretty satisfying to finally be at he final level.  I am regularly in raid groups with people I see out all the time that are still in the mid 30s so knowing how much they play underscores the achievement of hitting level 40.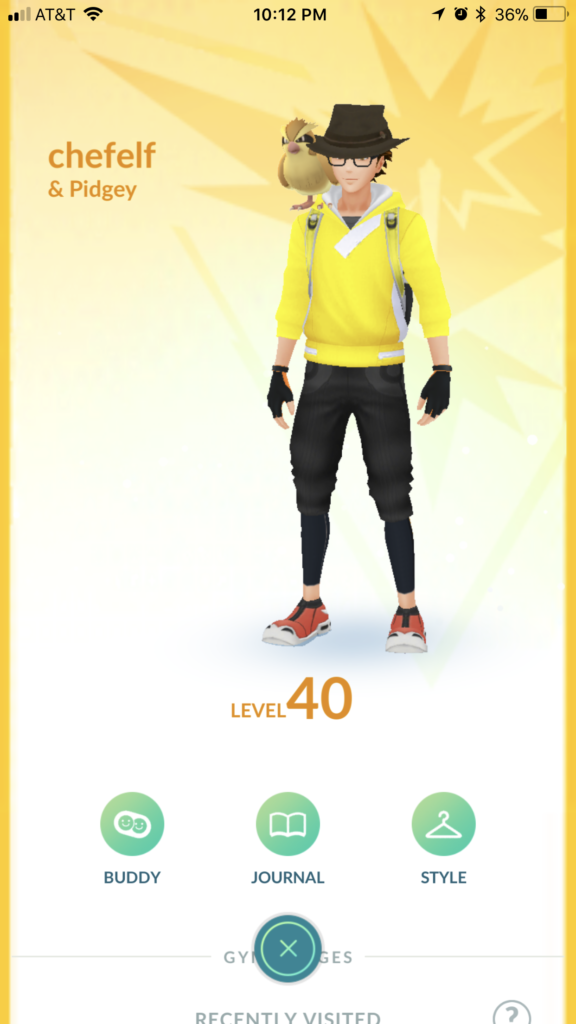 After all this time, here are my achievement medals and stats after hitting level 40:
Start Date: 7/9/2016
Total XP: 20010070
Medals
Jogger: 1,698.2 km
Kanto: 147
Collector: 29,678
Scientist: 5,226
Breeder: 1,003
Backpacker: 21,230
Youngster: 310
Pikachu Fan: 436
Johto: 98
Berry Master: 2,030
Gym Leader: 5,566
Hoenn: 103
Fisherman: 97/300
Battle Girl: 950/1000
Ace Trainer: 252/1000
Battle Legend: 108/1000
Unown: 6/10
Champion: 90/100
Schoolkid: 12,797
Black Belt: 291
Bird Keeper: 8,787
Punk Girl: 7,512
Ruin Maniac: 1,327
Hiker: 988
Bug Catcher: 5,488
Hex Maniac: 1,208
Depot Agent: 332
Kindler: 1,328
Swimmer: 5,182
Gardener: 2,737
Rocker: 1,014
Psychic: 2,687
Skier: 1,030
Dragon Tamer: 242
Delinquent: 785
Fairy Tale Girl: 983
I even finally retired my buddy, the Pidgey who had been my companion through all of level 39.  The need for Pidgey candy for grinding is now taking a backseat to finishing off my Pokédex.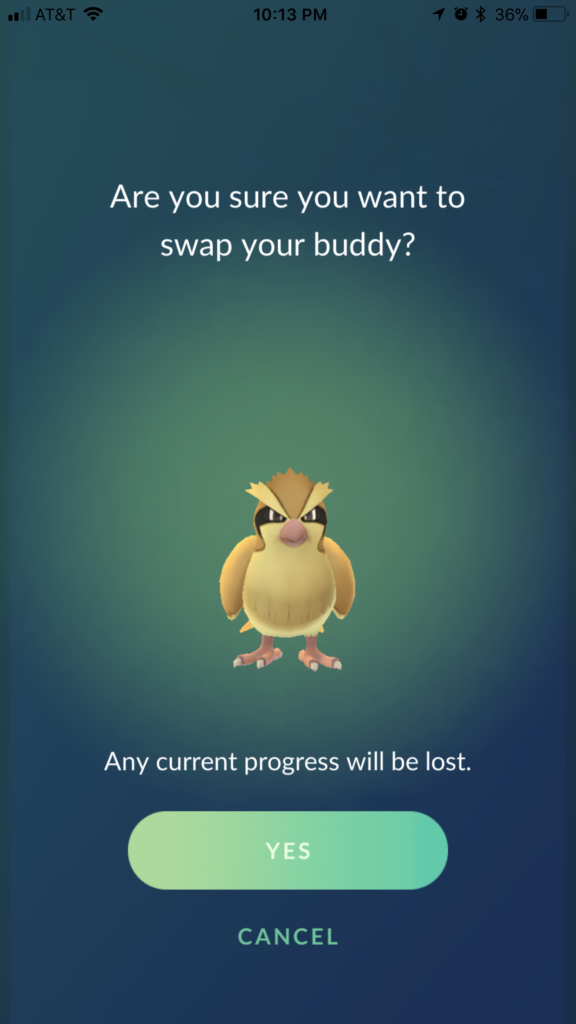 I run into a lot of people who take months off then come back.  I guess the key is that I have played the game every day since it was released in July of 2016.  Sometimes it's for ten minutes.  Today, for example, I have barely played as I take a break from the week long grind to complete level 39.  Other days, like yesterday, I'm opening the app every ten or fifteen minutes to get some valuable XP.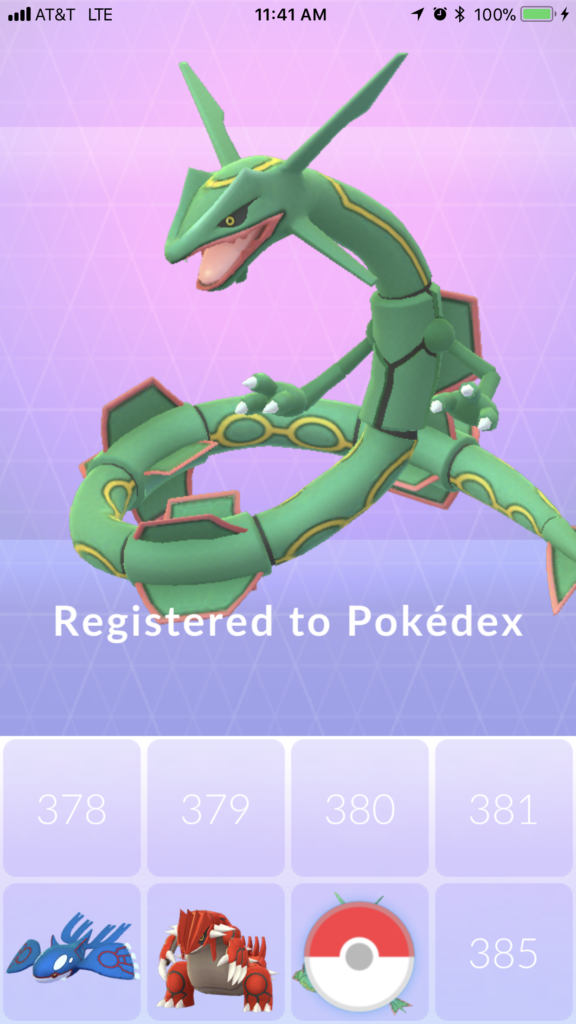 On Monday, only a few weeks before he was about to leave the game, I finally caught my first Rayquaza.  It was a little more difficult than normal given that everyone's pretty sick of Rauquaza after a week.  Luckily there were some people grinding that were just there for the XP.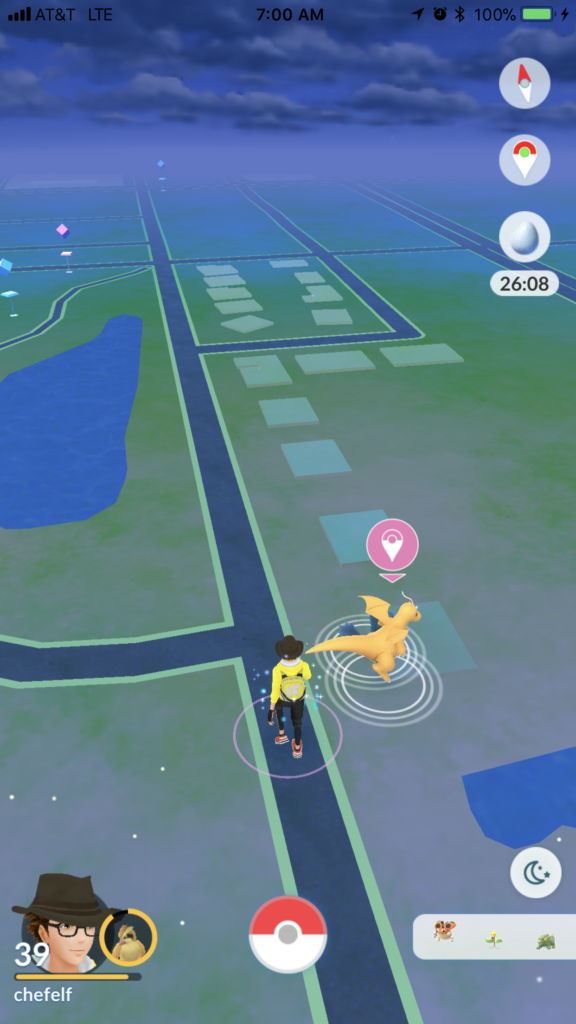 On Wednesday, my last full day of level 39, I randomly encountered my first ever Dragonite in the wild.  I nearly got him with my GO plus as I wasn't really paying attention at the time.  I've never used a tracker to hunt down Dragonites and I had thought I'd never run into one.  I remember the odds of this were calculated somewhere around 1:1,000,000 so I was pretty psyched, even though I've evolved more than enough for my needs.  On top of running into it he ended up having very good IVs.  Even if he was 32 CP I would have kept him, excited to finally run into a wild one for the first time.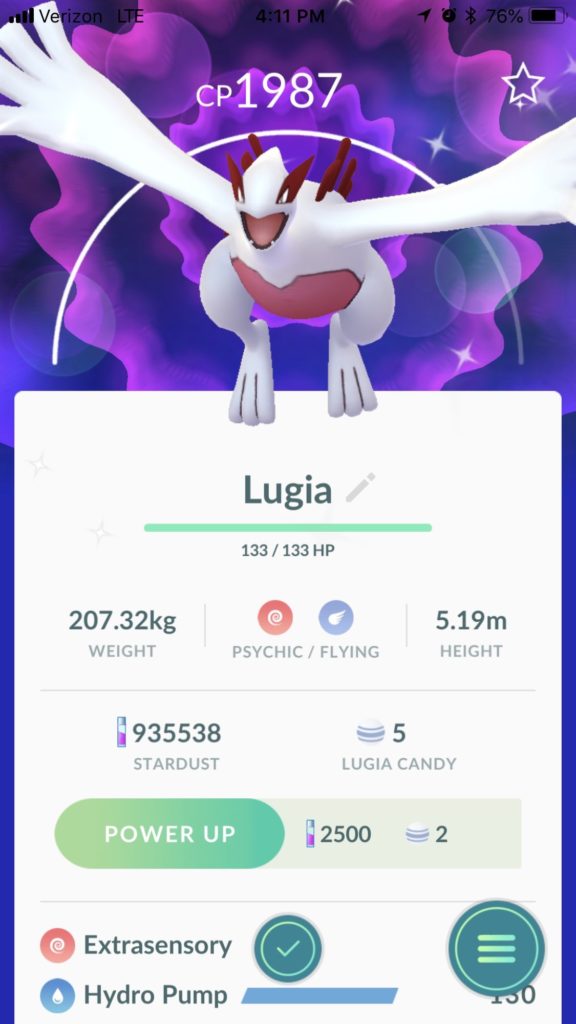 After hoping we'd get a bit of a legendary break it was announced yesterday that Lugia was coming back.  This wasn't terribly exciting.  I have plenty so I was excited to have a break from all this raiding.  Then came the news today that there will be shiny Lugia.  Whether they are all shiny I am not sure at this point but it looks like  I will not be getting a break after all.
Back to the grind.