Kylo Ren's decision to not fire upon his own mother's ship is a touching scene but ultimately meaningless as a group of fighters swoops in right behind him and blasts the the ship enough so that the bridge is destroyed and Leia gets shot out into the vacuum of space.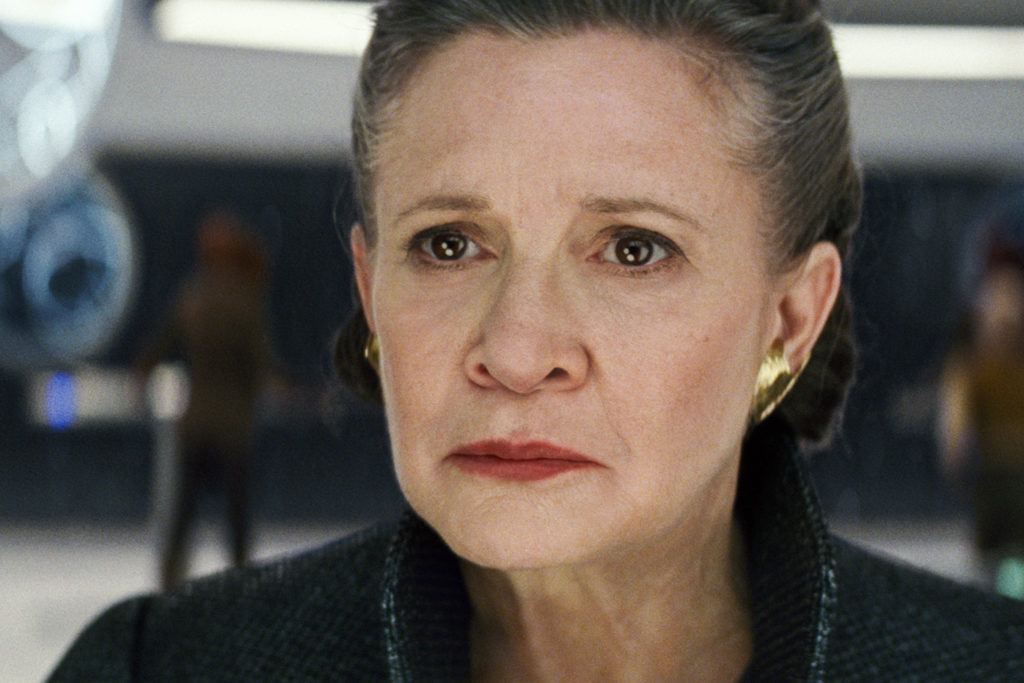 When watching this for the first time I thought that was it.  I thought they'd killed off Leia and I watched in sadness as they showed her motionless body floating through space.  Then we see Leia's fingers start to move.  It becomes clear that this is not the end of Leia.  Then the unthinkable happens, she begins floating through space back toward the ship.
I don't have any issue with Leia using the force to get back to the ship.  However, the way it happens is just silly.  Upon a second viewing I will admit that it looked a little better but when I saw it for the first time my immediate reaction was an uncontrollable chuckle.  Maybe if she had glided more horizontally but the fact that she was upright, her dress unmoving in the zero gravity, just looked comical.  To me it was the "first kiss" moment of the new trilogy.  In the prequel trilogy we see Anakin and Padme have a first kiss and as she pulls away the swelling music cuts out.  The result is hilarious and I know that's not likely what hey were going for.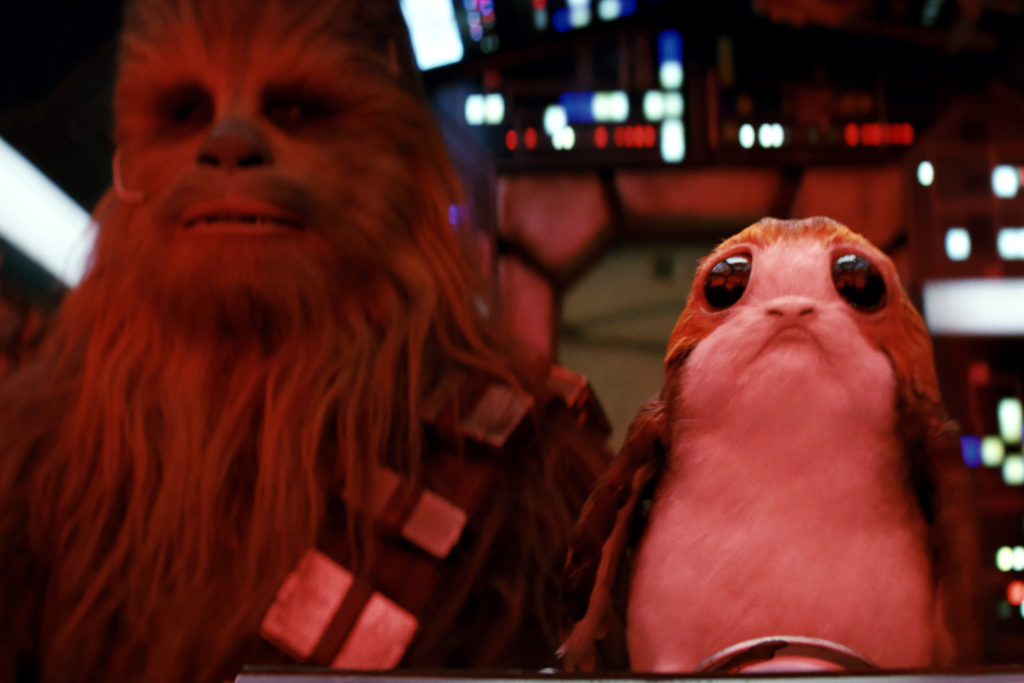 We then return to planet Ahch-To to see Chewbacca slowly roasting a Porg over an open flame.  As he goes to eat it he is stopped by a sad-looking Porg staring him down.  Chewbacca scares away the growing number of guild-inducing Porgs but then is left with no appetite to eat he roasted one.  The scene appears to be a comedic lift after what we've just watch but to me it played like two simultaneous comedic scenes.  It also left me a little disturbed about the wasted roast Porg.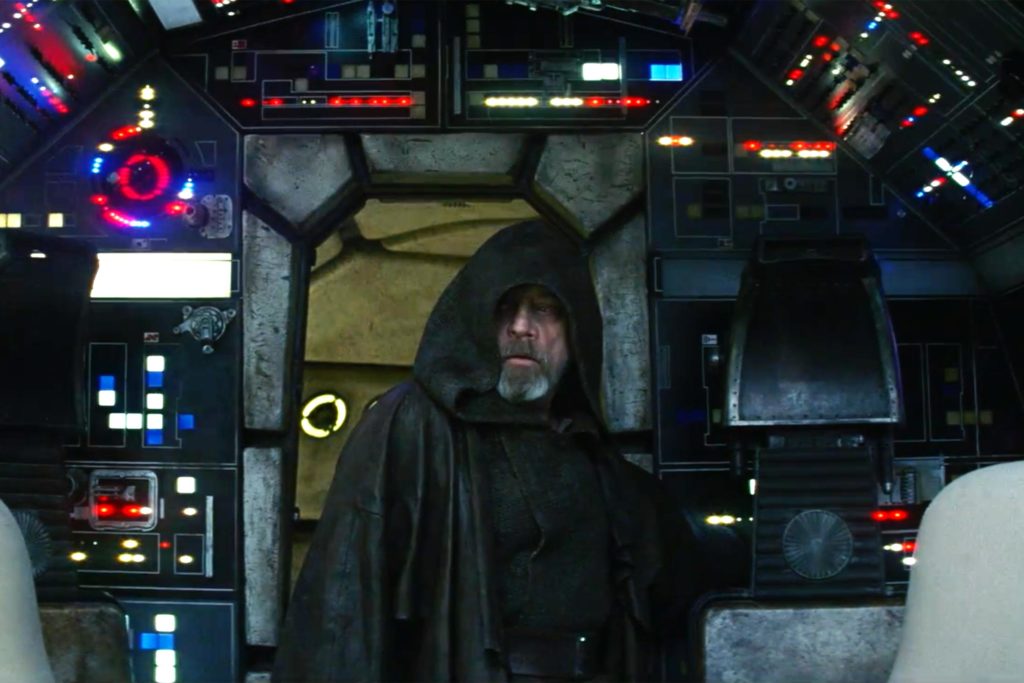 As this scene unfolds Luke enters the cockpit of the Millennium Falcon and we see him have a solitary reunion with the old ship.  He even takes the gold dice hanging in the cockpit seemingly as a souvenir.
After sitting a moment he noticed R2-D2 and it's the only moment of joy we see Luke experience in this movie.  He looks genuinely happy and smiles like the Luke we all grew up with.  He tells R2 that he's not going back and that nothing can make him go back.  R2 then plays the famous Princess Leia hologram from the original movie which Luke tells him is a cheap shot.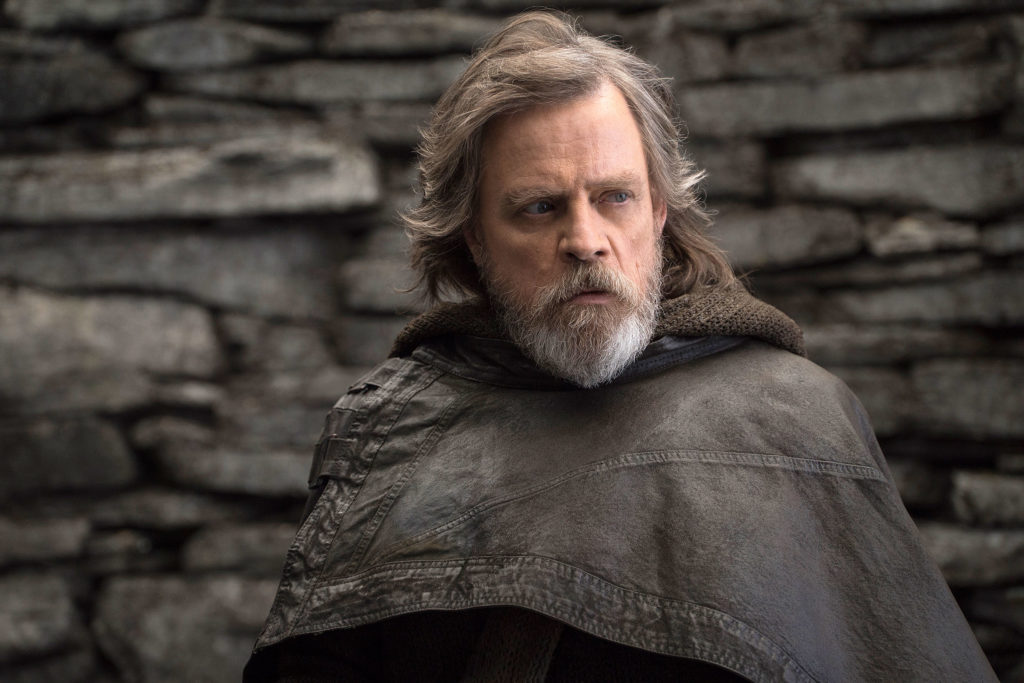 Luke emerges from the Millennium Falcon and tells Rey that tomorrow, at dawn, he will begin her training with three lessons.  "I will teach you the ways of the Jedi and why they need to end."
We then return to the Resistance ships being fired upon and learn that all the Resistance top leadership was killed in the blast that ejected Leia into space.  This includes Admiral Ackbar.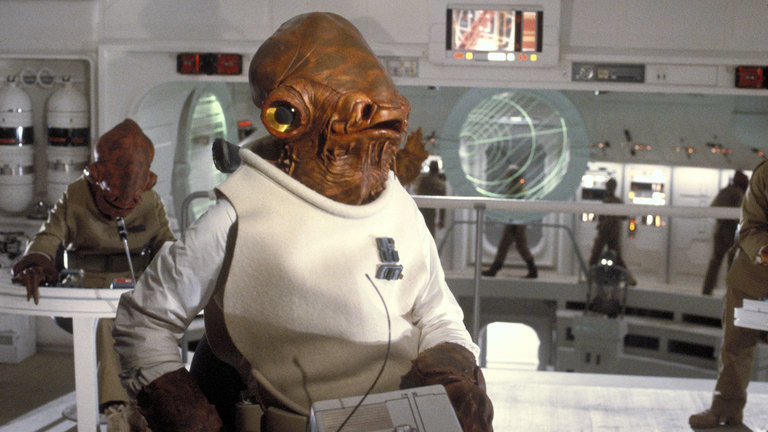 One of the problems I have with these new movies is that they're sad.  I know it's fine for there to be sad elements in a movie.  It's just very depressing to see all of your old heroes growing old, suffering loss and heartache, and dying.  I was pretty happy with where Return of the Jedi left things.  I just imagined Leia worked together with Mon Mothma to re-establish the Republic as we see in a lot of the expanded universe books, and that they rose above all the conflict and devastation they'd seen.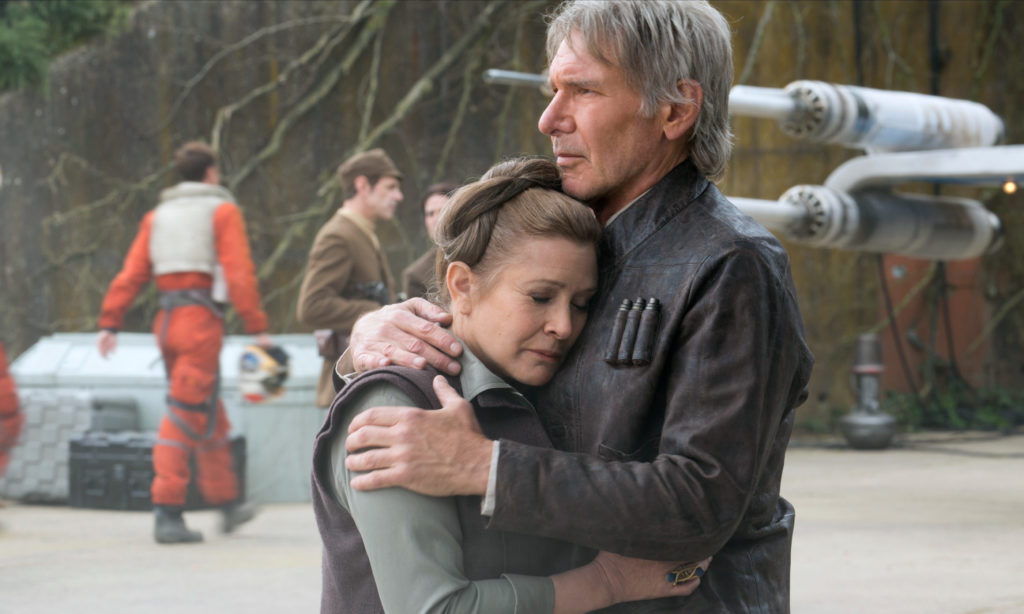 Unfortunately, the truth of it is that Han and Leia didn't live happily ever after.  They broke up.  They had a son who betrayed them.  We see Han die in heart-breaking scene at the hands of his own son.  Presumably we will see or hear about Leia's ultimate fate as it looks unlikely she'll be in the final movie for any more than a few stitched-together scenes.
I don't like it.
Seeing Han Solo die affected me more than I'd like to admit.  Knowing that Admiral Ackbar dies is also a bummer.  Who knows what happened to General Madine or Mon Mothma?  Likely they were killed in other pointless battles the Resistance had with the First Order.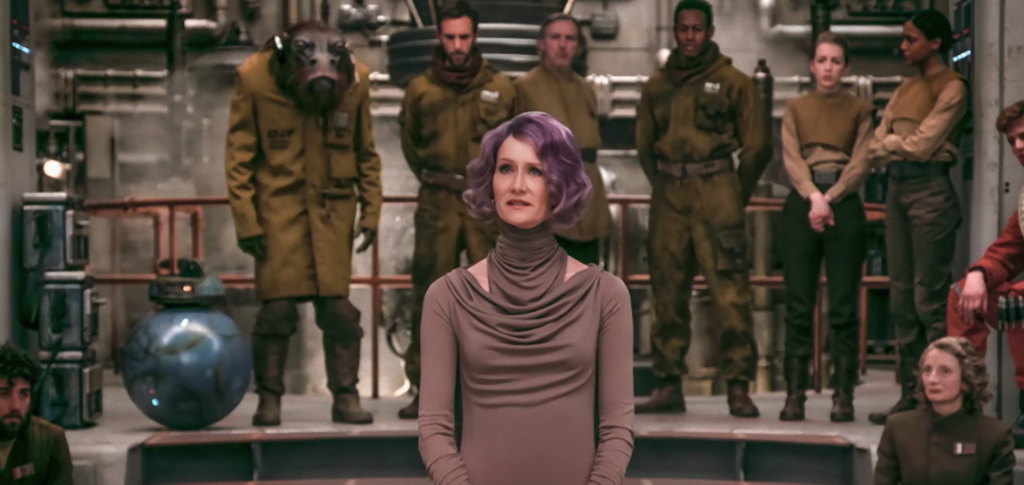 The information about Admiral Ackbar and the others' deaths is delivered by Vice Admiral Holdo, a purple-haired military officer in a dress who gives a not-so-reassuring speech to everyone about Leia's status.  We learn that there are about 400 resistance fighters left on three ships.  We also learn that Poe had no idea what Holdo looked like or who she was despite the fact that she was a senior member of the leadership.  I've worked for companies and locations which hundreds more people than that and I can tell you I knew who the top people were.
The dwindling of the Resistance just shines a light on the continued problem I have with the new movies.  The First Order is not the Empire.  The Resistance are not the Republic.  But they sort of are.  It was dumb to create these two new fictional entities rather than just have it be the remnants of the Empire vs. the New Republic.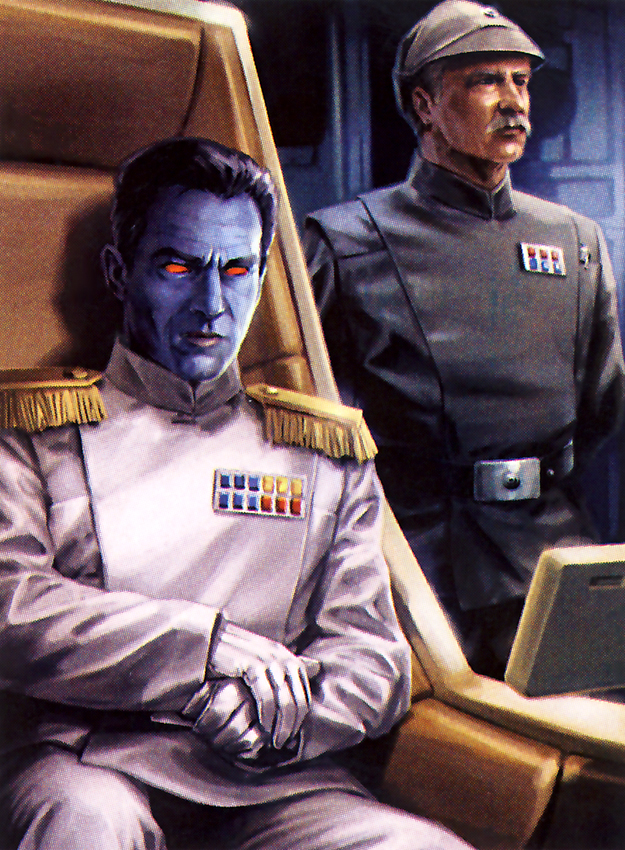 In the first expanded universe books Timothy Zahn creates a compelling struggle between the diminished remnants of the old Empire being helmed by the military genius of Grand Admiral Thrawn.  Despite the Republic's advantage in size, Thrawn manages to make them underdogs in this new fight.
We don't need the Resistance to be down to twenty people to make it seem like all could be lost.  That could be achieved without having concocted this weird new military/political struggle between these two new groups.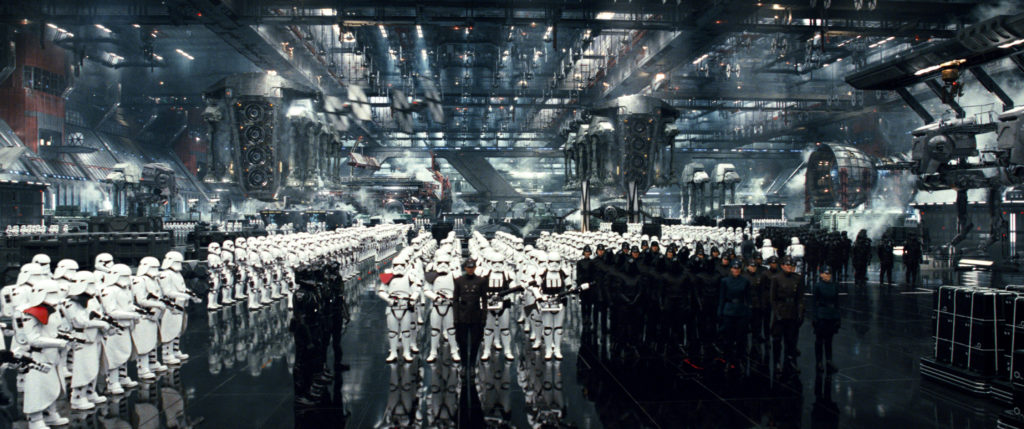 At a certain point the struggle becomes too much.  How will this tiny remaining group of fighters win against the Empire at this point?  Earlier in the movie Luke asks Rey,  " You think what? I'm gonna walk out with a laser sword and face down the whole First Order?"  I liked this line.  I like the realism of the lightsaber duels.   The prequels are just highly-choreographed dance sequences.  In this new trilogy it looks like an actual struggle when two people are fighting.  In the prequels it would be taken for granted that Anakin or Obi-Wan or whoever would simply just take on an entire army alone.  In the new trilogy the Jedi are strong warriors, but not super heroes, and not invincible.
That's the refreshing point of these new movies.  It's something I really enjoy.  The downside is that the corner they seem to have painted themselves into is that they need an unrealistic hero to seemingly win this fight.  They need a Neo or an Anakin Skywalker, or a Goku.  Rey is strong but, much like Luke, she won't be able to do it either.
Next up . . . Finn meets Rose and sets out on another adventure!