Written by: Chefelf
Edited by: Jacques & Jen
The End Of A Saga...
For the latest (and last, at least for a while) Star Wars movie, I toyed with the idea of doing this review a little differently than the others. One idea I had was to sum up the movie simply. For example: I believe everything about this movie could probably be summed up with this picture: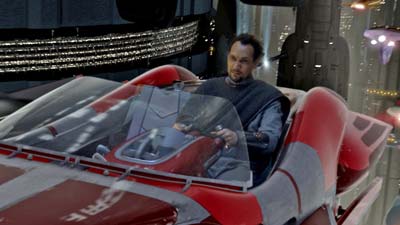 Perhaps a caption contest of this picture would even be adequate. That would be a very simple way to sum up what this movie is like, but if I were to do that, I would have all these delightful reasons swimming around in my head and nothing to do with them.
I thought of breaking up the format and doing it review-style. But ultimately (a word that Lucas probably has patented by now), I decided to stick to the standard "Reasons to Hate" format, even though "Observations I have made about" is probably more accurate than "Reasons to Hate."
Before even posting these reasons, the emails have been pouring in and the Star Wars Fan Convention forums have been buzzing with activity since May 19. Some people continue to be angered by the movies. Others continue to be angered by me.
I am not angry. I have come to accept the new batch of Star Wars movies for what they are and I hope everyone does the same, because no amount of complaining or fanfic writing will change what has happened. They are here, and there is nothing we can do about it.
Everyone has to find their way of dealing with the new movies. Some of us will talk about how kickass they were. Others will complain and continue to use four-letter words directed at George Lucas. Others will write their own version of how the trilogy should have been. Others will criticize the fan fiction versions and write their own versions of the fan fiction.
Others will nitpick every detail about the new movies. Others will write rebuttals to those nit-picks or add nitpicks to the other nit-picks in a never-ending circle of buffoonery.
One thing is for sure. No one is ever going to stop complaining about Star Wars online.
As always...
Join the ongoing discussion at the Chefelf.com Star Wars Forum
The list, as always, is presented in chronological order for your enjoyment.

On to Reasons to Hate Star Wars:
Episode III: Revenge of the Sith...
Back to Chefelf's Main Star Wars Page
---
Reasons to Hate Star Wars
Episode I (78 Reasons to Hate!)
Episode II (64+ Reasons to Hate!)
Episode III (91 Reasons to Hate!)
The Nitpicker's Guide to Star Wars
Episode IV: Special Edition (12 Nitpicks!)
Episode V: Special Edition (8 Nitpicks!)
Episode VI: Special Edition (17 Nitpicks!)
---