| | |
| --- | --- |
| | Conversation with Luke |
The main redeeming factor of this scene is that it presents the viewer with the first English words spoken in over ten minutes.
Malla uses a near equivalent of a TRS-80 to scan the local area. A quick scan reveals that there are no ships in the area. Distressed, Malla and Itchy move aside some panels on their bookshelf to reveal a communication device that they use to dial up Luke Skywalker's workshop. In the workshop, we see a hideously deformed Luke Skywalker* performing maintenance on R2-D2. The two Wookiees grunt and groan to Luke but have to resort to mime and charades to get Luke to understand what they're talking about. They eventually get their point across by holding up their Sears Portrait Studio photograph of Chewbacca and shaking their heads.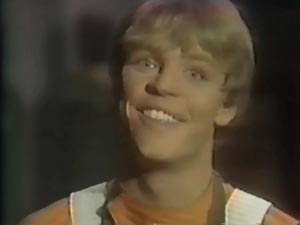 Luke tells them not to worry and then something starts smoking behind him. This scene was probably supposed to be comedic but it's more tragic than anything else. Luke's workshop fills up with smoke and he scolds Artoo for not paying closer attention to the smoking thing.
Luke tells Itchy and Malla not to worry. "C'mon, Chewbacca's not going to want to come home to a bunch of long faces. C'mon, let's see that smile." Malla reluctantly smiles. For a brief moment it appears that Luke is hitting on Malla. Luke tells them to "try to enjoy your Life Day". Always good advice when your loved ones may be dead.
*The reason that Luke looks so deformed is because Mark Hamill was involved in a terrible car accident before filming. The makeup is covering up facial scarring from the accident and the reconstructive surgery. This is what makes Luke look more like Kryten from Red Dwarf than the human Luke Skywalker that we all know and love.