| | |
| --- | --- |
| | Saundan the Sassy Trader! |
Malla goes back over to the TRS-80 and connects to Wookiee Trading Post, Wookiee Planet C. There we see Art Carney's character, Saundan. An Imperial Guard has let himself in and is poking around his workshop. Malla gets to watch this entire scene from the comfort of her living room.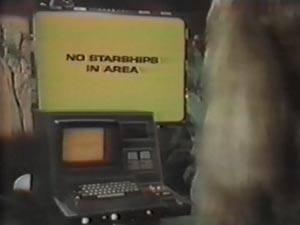 Art shows the Imperial Guard his "pocket aquarium" that you can take with you wherever you go. The Imperial officer tells him that he hates fish. Saundan agrees with the officer then says, "Let me show you some of the other things those stupid Wookiees buy from me."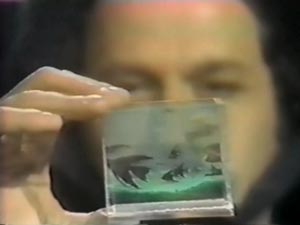 When Saundan notices Malla on the viewscreen he tells her not to say a word and then talks about the "things she ordered" like when that "big shaggy carpet" will be delivered to her. Then he talks about how it was "knitted by hand... SOLO". This code used by Saundan is enough to keep the snooping Imperial officer off his case.
The Imperial, who speaks in an unnecessarily sinister voice, proves how evil he is by stealing a personal groomer from Saundan's shop. Then they leave Art Carney on camera to fill up another 20 seconds or so with some extremely poor comic improvisation.