| | |
| --- | --- |
| | Crappy Hologram Circus |
After Malla and Itchy lament over a picture of Chewbacca, Itchy takes Lumpy over to a hologramatic projection table, similar to the chessboard on the Millennium Falcon. There Itchy is entertained by what I can only assume is called the Ringling Bros. Barnum & Bailey Half-Assed Circus. Some tiny gymnasts in brightly colored spandex suits begin flipping around in a poorly choreographed sequence.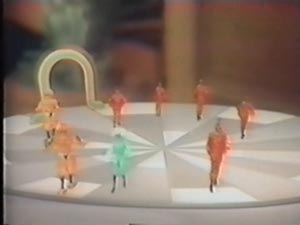 This is all accompanied by someone noodling around on a cheap synthesizer. Periodically one of the more effeminate performers will become life-sized and play what looks like some sort of horn next to Lumpy. It is reminiscent of some of the weaker interludes on children's shows such as Sesame Street and Pinwheel, the parts that were clearly just filler and gave four-year-olds their first taste of just what it is like to have your intelligence insulted.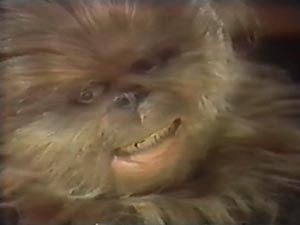 During this scene, Lumpy presides over the show like some sort of furry deity. He glares at the performers with gaping mouthed enthusiasm and when the show is finally over he applauds the performers with all the energy he can muster.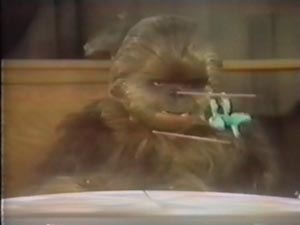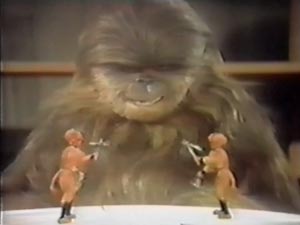 When the show is done, Malla decides that in order to make up for all the fun Lumpy just had he will have to dry the dishes as payment. While most children would have found drying dishes to be relatively enjoyable after what just happened, Lumpy is quite distressed at having to do this.
This scene clearly shows that either Wookiees are not nearly as intelligent as previously thought or that Lumpy is simply a mental handicap.